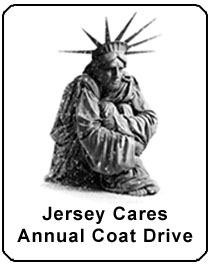 Help us keep NJ Warm!!!!
Accurate Language Services is proud to team up with JERSEY CARES
for the 19th Annual Coat Drive.
Please drop off your 'gently used' winter coats at our Asbury Park office
during office hours (9am – 5pm, M-F).
Donations for the NJ Cares Coat Drive are accepted until December 15, 2014.
If you have more than 10 coats we will be happy to pick them up!   Please call us at 856-625-7894.
Address: 501 Grand Avenue, Asbury Park, 07712.   Right side entrance.
For the 19th Annual Coat Drive, Jersey Cares plans to collect and distribute more than 35,000 "gently used" winter coats to men, women and children in need throughout New Jersey. Over the past eighteen years, Jersey Cares has collected, sorted and distributed more than 400,000 coats to New Jersey residents through our annual drive. Companies, churches, fire departments, police stations, schools and other organizations set up sites across the state to collect coats. Coats are then delivered by collection site representatives to the nearest container site. Volunteers then sort the donated coats at the container site and bag them for pick-up, after which nonprofit organizations pick up their coats and distribute them to people in need.
Thank you for caring!